Mission
Perugia Press publishes one collection of poetry each year, by a woman at the beginning of her publishing career. Our mission is to produce beautiful books that interest long-time readers of poetry and welcome those new to poetry. We also aim to celebrate and promote poetry whenever we can.
All Perugia poets are available for readings. Please contact the press to schedule an event.
New release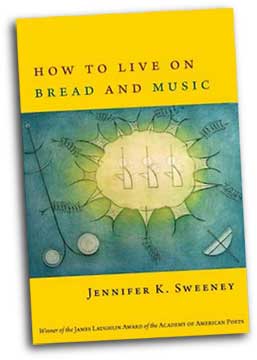 How to Live on Bread and Music
By Jennifer K. Sweeney
Winner of the 2009 Perugia Press Prize
Winner of the 2009 James Laughlin Award of the Academy of American Poets
"A remarkable achievement from the hand of a poet with a subtle and compassionate mindfulness."—Afaa Michael Weaver
Manuscript reviews
"Pulling it All Together: Preparing Your Poetry Manuscript for Publication"
Personal Manuscript Reviews by Perugia Press Editor Susan Kan
"Reading your review was a Eureka! moment for me." — Marc Berman
Click here for more information.